Thanks to some amazing reporting by Stephanie Talmadge of GQ (read her article HERE), we are starting to see the amazing impact lab grown diamonds are having on the diamond industry and the retail market at large.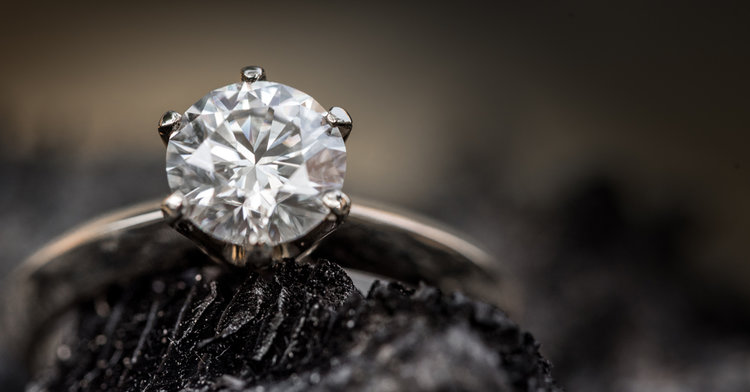 Myth #1 – Lab Grown Diamonds are Fake Imitations or "Knockoffs" of Mined Diamonds
Talmadge expertly demonstrates that grown diamonds are not knock-off imitations like a purse you may buy off a street vendor as the mined diamond industry may have you believe. On Lab grown diamonds, she writes:
"These aren't knockoffs; they're not cubic zirconia; they're not Swarovski crystals. They're bona fide diamonds—chemically identical to their earthen counterparts, so declared by the FTC this summer…"
The job of the FTC is to create rules and guidelines so there is no fraud, deception, or misguidance in the jewelry industry. Although they had not amended their guidelines for over twenty years, they began the process in 2012 in response to the industry shakeup caused by the innovation of lab grown diamonds. After the unanimous vote, the FTC ruled that a diamond is a diamond no matter if it is grown or mined.
Their goal was to accurately represent lab grown diamonds for what they are: real, genuine diamonds. Before this vote, lab grown diamonds were labeled as "synthetic" which put them in the same category as the fake diamond imitations. The new guidelines state it is misleading to use the term "synthetic" when describing lab grown diamonds as they contain the same chemical, physical, and optical properties as mined diamonds. The word "synthetic" was used by many to imply lab grown diamonds were not real diamonds and were in fact simulated knockoffs like cubic zirconia or moissanite. This has since been declared a false personification of lab grown diamonds.
Myth #2 – Mined Diamonds are Rare, Whereas Lab Grown Diamonds Are Not
The mined diamond industry has now taken a new approach to combat the growing popularity of lab grown diamonds. They are presenting them as "less than" and implying they are not suitable for engagements or other major milestones because they are not as "rare" or "precious". This has been a running myth in the diamond industry for decades, and Talmadge was quick to point this out.
"This has led to the consensus that natural diamonds are uncommon, special gemstones, but that's not wholly true. While all gem-grade stones are technically rare, diamonds are actually more common than most gems. But because De Beers controlled the majority of the world's diamonds up until 1998, they were able to restrict supply, falsely creating the "rare" perception—and cresting diamond prices—that persists today."
Myth #3 – Mined Diamonds are Unique, Whereas Lab Grown Diamonds are Identical Clones
One of the other biggest myths about lab grown diamonds is that they are not unique or special in any way and are merely clones or copies of each other making every one of them completely identical and unoriginal.
This myth could not be further from the truth.
When you plant a tree, you know roughly what shape it will be and what size and shade it will become. However, you never know what direction the branches will grow. You can be assured that although the tree may be similar to others, it would be impossible for it to be the same exact copy of any other in the world. The same is true for lab diamonds.
This all goes back to the main and only significant difference between lab grown diamonds and mined diamonds. Grown diamonds are grown and mined diamonds are mined. And the ethical benefits to grown diamonds cannot be matched.
"There's also an ethical concern when it comes to the origins of natural diamonds. About 65% of the world's diamonds are mined in Africa, sometimes in war zones by forced labor, the proceeds of which are often used to fund those wars."
The civil and environmental ramifications of mined diamonds are no secret. With lab grown diamonds, there is zero risk that any child-labor, violence, or other human rights abuses were involved in any part of the process. There's no excavation or mining involved, so natural resources are kept intact and communities are left unharmed.
Talmadge spoke to Tim Castelein a newly engaged man who chose to use a lab grown diamond in the ring he proposed with.
"I'm a pretty environmentally conscious person, and as I learned more about the processes that go into harvesting diamonds, and especially some gemstones… It's hard to get behind that as something I want to fund."
Tim Castelein, 26 year old mechanical engineer.
Myth #4 – Lab Grown Diamonds Will Lose Value Whereas Mined Diamonds Will Gain Value Over Time
The final myth Talmadge addressed is the long-term value of lab grown diamonds versus that of mined diamonds. Many believe that mined diamonds are an investment and will increase in value over time, whereas lab grown diamonds will lose value over time. This is a tragic, yet common misperception.
"The other main deterrent is the long term value of a lab-grown diamond… But most natural diamonds actually don't fare so well by that measure. "Diamonds are forever"—at least until you leave the jeweler, at which point your shiny new diamond loses over 50% of its value."
This article did a fantastic job at debunking some on the greatest misconceptions (and false propaganda) surrounding lab grown diamonds. When it comes down to it, mined diamonds were never as "precious" or "special" as the grapevine marketing used by the industry would have you believe.
Mined diamonds are rarely rare, have a volatile value, and often have a horrific history behind where they came from. With lab grown diamonds, there is nothing but pure transparency. You know the value, origin, and exclusivity of every lab grown diamond with absolute certainty.
And since truth begets power, its no wonder lab grown diamonds are becoming the new normal of the industry.
To Learn More About Lab Grown Diamonds, Click Here
To Read The Full Article by Stephanie Talmadge, Click Here
To See Request a Quote for Wholesale Lab Grown Diamonds, Click Here